Dietmonsta For Peak Performance
Fueling athlete's success one meal at a time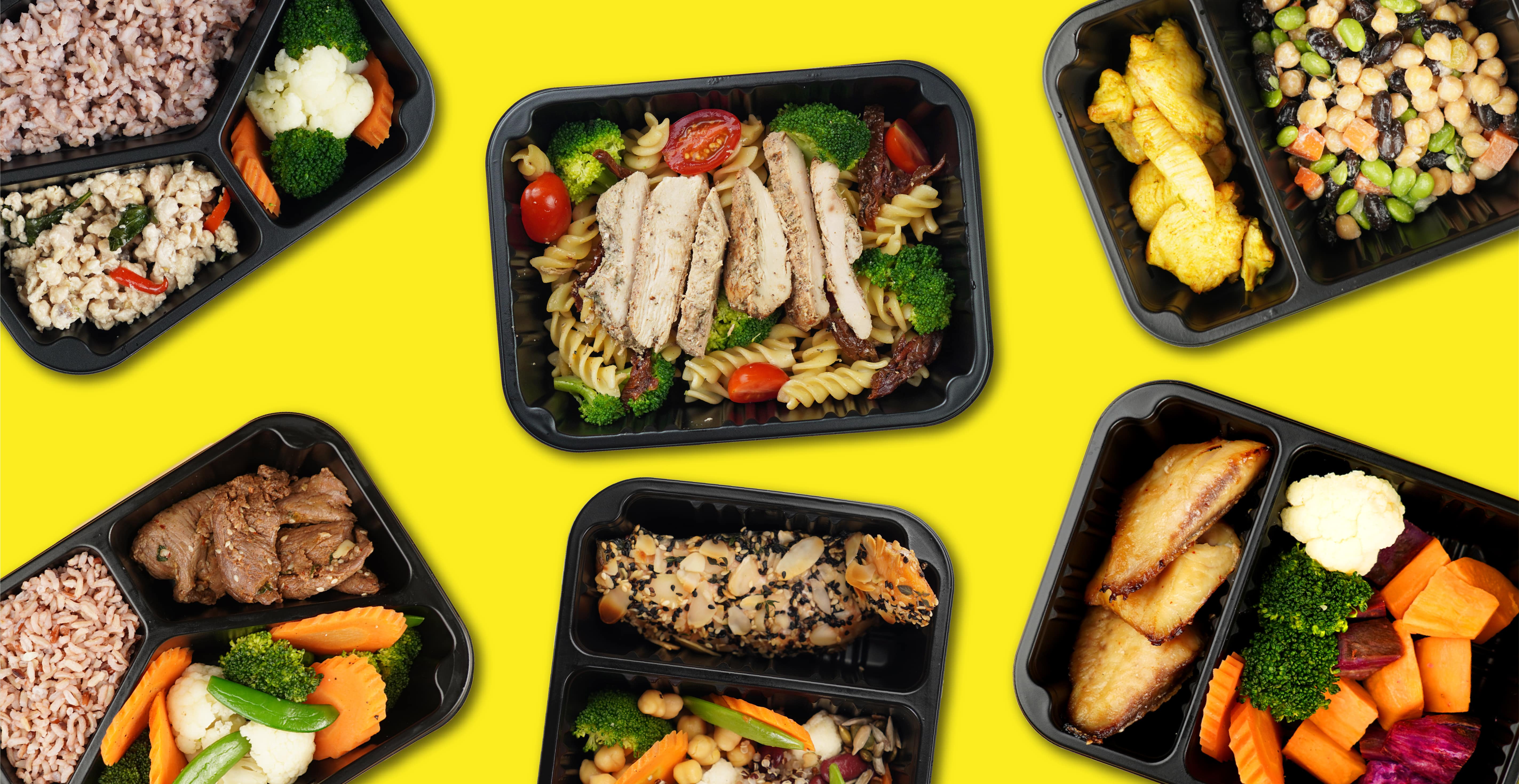 Nutrition complements your daily training and recovery to ensure you get the peak edge over the competition. Proper nutrition is essential for athletes' bodies which face a high level of stress. Achieving adequate nutrition requires you to focus on the main food groups. Dietmonsta meal plan provides a comprehensive eating plan that suits these physical demands.
Proteins
Understanding your body composition and nutrient absorption rate is crucial in identifying your protein intake. Prioritizing lean animal proteins such as chicken breast and fish would help your body maintain and recover muscle. A complete protein source includes amino acids that our body cannot produce itself. Too little protein will mean you lose lean body mass as an athlete in training. Choose healthy protein sources such as chicken, fish, peanut butter, eggs, and nuts. Always stick to whole food and lean meat and avoid processed meats and food. Animal proteins should make up about a quarter of your serving and be palm-sized.
Fruits and Vegetables
Include a plan that consists of eating fruits and vegetables daily. This food group should consist of half of your plate for each meal or at least five servings daily. Feel free to include a variety of colourful vegetables and fruits as each provides various nutrients, carbohydrates, vitamins, minerals, fibre, water, and antioxidants. Fruits and vegetables provide the essential energy and antioxidants to help muscle recovery and injury prevention. More importantly, it helps with hydration and digestion, which allows your training to be smooth.
Grains
Opt for whole-grain carbohydrate sources as it offers a better vitamin, mineral and fibre source than white grains. Whole-wheat pasta, quinoa, brown rice, and rolled oats serve as power-packed energy sources that contribute to substantial high-intensity activity and recovery resources. Avoid refined grains and sugary cereals, and white bread. Your grain consumption should be equivalent to one fistful for each meal as an athlete.
Hydration
Staying hydrated is a vital element to achieving peak performance as an athlete. Always drink water two hours before exercise, 30 minutes before a workout, during training, and after exercise, as a drop in hydration level can negatively impact your performance. Avoid beverages with higher sugar content and supplement your hydration with more leafy greens and fruits with higher water content, such as tomatoes, cucumber, apples, watermelons, and lettuces.
Dairy
Complete your meal plan with a food group packed with calcium, potassium and protein. This combination of nutrients supplies the necessary components for energy production, muscle recovery, and bone strength. Variety is critical in achieving nutrient targets for an athlete, and dairy sources of high calcium content, protein and a great source of electrolytes for rehydration. Include around 2-3 servings of low-fat dairy or dairy alternatives in your meal plan.
Dietmonsta Athlete's Plate
Healthy meals and good nutrition are highly individualised and can be very flexible to suit your preferences and lifestyle. Dietmonsta meal plan combines all the necessary macronutrients and micronutrients to provide your training energy source and strength. A suitable diet is a long-term journey, and fueling up for peak performance occurs in the months leading up to the competition. You can bring Dietmonsta meal plans during competitions instead of food stands. You can always use this opportunity to listen to your body's responses and speak to a Dietmonsta nutritionist to tweak your diet as necessary. Here is a sample of our national heroes' Dietmonsta customised meal plan:
Zamarul Adam
Meal 1 8 am (pre-workout)
Meal 2 11 am-12 pm (post-workout)
Chicken breast 200g
Tilapia 150g
Meal 3 2 pm
Brown rice 100g
Broccoli 100g
Meal 4 4 pm (pre-workout)
Meal 5 7 pm (post-workout)
Rolled Oat 50g (cooked)
Chicken breast 200g
Meal 6 10pm (last meal)
Tilapia 200g
Broccoli 100g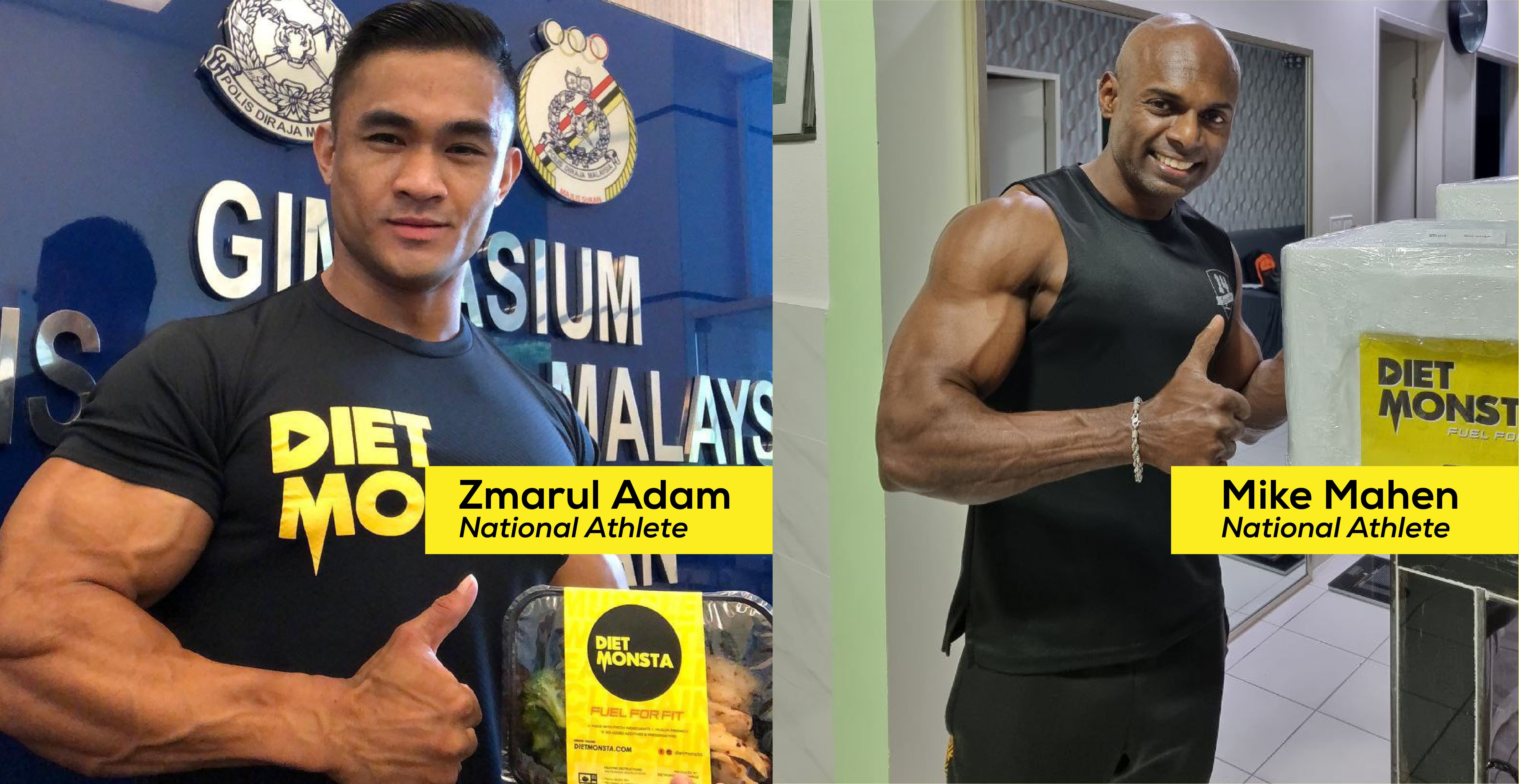 Mike Mahen
Meal 1
Oats 100g + protein shake
Meal 2 Post-workout
Protein shakes + carb 150g
Meal 3 Lunch
Tilapia 150g
Broccoli 80g
Meal 4 Dinner
Seabass 250g
Carb 150g
Broccoli 80g
Meal 5
Salmon 150g
Broccoli 80g
almonds